Recently, I had the time to re-read the book "The Giver", an 180-page dystopian fiction novel by Lois Lowry, which was originally published in 1993. I have read this book once before in 6th grade but, felt the need to read it again because I had completely forgotten what it was about. Also, because I just found out that the movie version of "The Giver" came out last year (August 15, 2014) and I always like to compare the movies to the books, even if the books are ALWAYS better than the movies.
https://www.youtube.com/watch?v=iJNNugNe0Wo
This novel is about a boy named Jonas growing up in a place of conformity, where there is no pain, color, or freedom, but he doesn't know that yet.
As you grow up in this community, there are different celebrations, the most important is becoming a 12 because this is when you get your job. But, when Jonas gets the job as The Receiver he is a bit unsure. The Receiver is the person who gets all the old memories of the community and stores them until, they go on to become the Giver. It is a job of bravery because often, it can be quite painful. So, as The Giver entrusts him with the memories he notices what everyone doesn't know ab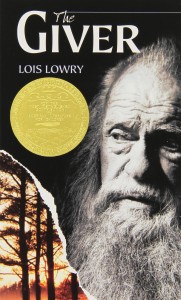 out the real world.
I liked the way the author created this whole new world where people didn't know what pain was. I find that a little unsettling because imagining me being in a place where their was no wrong decisions, seemed odd. Without having pain, life wouldn't be as interesting, we would not be able to learn from your mistakes or just experience the world.
Yet, at the same time the idea of this community not being able to see color bothered me so much. I am one of those people that will have an existential crisis at least once a week and this, did not help. Just try to picture going to school yet, not being able to see that the bus was yellow or, that the stop sign was red because, you never know, maybe color is just in our heads. Is it even real?
I loved all those different changes she made to that specific neighborhood but, I absolutely did not enjoy the ending of "The Giver." The story was flowing so nicely. Getting to see Jonas and The Giver relationship form, hearing about all the different jobs and then BAM, the story ended so fast. I feel as though Lois Lowry should have taken time to add more to the ending because I was left not knowing what had happened.
I understood when The Giver eventually said "The worst part of holding memories is not the pain. It's the loneliness of it. Memories need to be shared" (154). It made sense why he said this because, yes, the memories themselves were painful but, having to cope with not being able to share the memories with the community was going to be the most painful. All the people in that neighborhood probably have never even heard of color and even if Jonas were to talk about it, no one would understand him. He would be the only one that knew about this whole different life.
This also kinda made sense to me in our life, now, because their are memories that many of us have that, maybe, if you explained it to someone, they would not understand the importance of it.
I thought this was an amazing book that sort of refreshed my mind with life lessons after reading other fantasy books. I would give this a 8/10.