12/17/15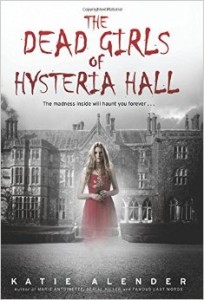 I have recently finished reading, The Dead Girls of Hysteria Hall by Katie Alender. This 329 Mystery book keeps you flipping the pages all the way up until the end. Katie Alender grew up in South Florida, where her first article was published while she was in high school. Her first book to be published is Bad Girls Dont Die. Even though Alender says that she doesn't like scary movies or books, many people say that her books give them chills. I read one of Alender's other books, and definitely enjoyed it. I picked up this book without even realizing that it was the same  author. 100 or so pages into the book,  I was definitely figuring out that I've  read something of this authors before, and flipped to the back of the book, to find that I had read one of books before. Katie Alender's books all have the same eery, creepy topics that keep her readers hooked. I look forward to reading more of her books. I chose to read this book only because the back of the book really intrigued me. The cover caught my eye, and that's what first got me into the book.
Delia finds out that her grandmother has died. She never really knew her, but she did exchange some letters with her. Once Delia finds out that her grandmother has left her her house, she believes that it will be kind of cool, but nothing too special. Until Delia sees the house. It looked like a castle. But then Delia goes inside the house, and doesn't like what she sees. After finding out that Delia's knew house used to be an asylum, all she wants is to live. But her parents have another plan. Spend the summer fixing up the house, and then put it on the market. So Delia is forced to stay. But the question is, how long can she last before the house traps her there?
"The slippery smoke was now up to my neck. It squeezed lightly on my throat, and then the warmth of it stroked my chin before slipping, sweet and smoking, down my throat. It seemed  as if the fingers of a hand softly shut my eyelids for me and coaxed the breath out of my lungs.
I tried to open my mouth.
I tried to call for my mother.
But there was only silence.
And deep, deep darkness." (Pg. 59)
I chose this passage for my book because I believe that it really depicts what's going on, and what's really happening. I also think that it shows what Delia is going to have to overcome throughout the novel, but Delia doesn't know it yet. These descriptive words really draw the reader into this novel. I look forward to reading more of Alender's work. This book was an 8 out of 10 for me.
Sincerely,
Margaret Brady