To the readers of the blog,
Recently, I just finished reading the book Lost Boy by Tim Green. The genre of this book is fiction. It is 299 pages long. The book is written by New York Times bestselling author Tim Green. Tim Green had two dreams when he was little and they both came true. He wanted to play in the NFL and ended up playing for the Atlanta Falcons for eight years. He also wanted to become a best selling author which also came true. By the time he retired from the NFL in 1994, he had become a lawyer and had already published his first book. He has written more than a dozen books. He lives with his wife Ilyssa, their five children, and three dogs in upper state New York. The reason why I picked out this book to read was because of the cover. I knew it was going to have something to do with baseball which would keep my interest in reading the book.
I have to say that the first few chapters of the book was a tough read because of it being so sad. The book is about Ryder Strong, a twelve year old superstar baseball player for his team in New York City. He lives with his mom, who is his world, in a small apartment in a not so great building. His mom, Ruby, is young and beautiful and works as a maid for a hotel. She never talks about Ryder's dad so it's only the two of them. Then an accident happens. Ruby and Ryder are discussing why Ryder doesn't want to leave his mom to go to a sleepover. They end up both getting upset with each other until Ryder's mom falls in front of a truck and is rushed to the hospital. Ryder's mom needs two heart valves replaced which cost $200k which they don't have. If she does not get the surgery, she will die within weeks. Ryder is determined to save her. Doyle, a firefighter, takes Ryder under his wings since Ryder or his mom have any family. When Ruby (Ryder's mom)  got pregnant with Ryder, her family abandoned her so Ryder has no one but his mom. His mom cannot speak to tell her anything about her past or who Ryder's father is. The only thing that Ryder has is a old baseball with a signature on it, Thomas Trent, who is a pitcher in Atlanta. Mr. Starr, a ex sports writer, is Ryder's neighbor who is wheelchair bound and has a deformative disease. He will help take care of Ryder and the  two will become very close friends on their way to figuring out together how to save Ryder's mother. They will even travel down to Atlanta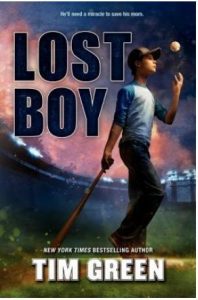 to confront Thomas Trent in person about the signed baseball and how he is Ryder's dad. Thank goodness for happy endings on a book with such a sad beginning.
I like the way the author turns a sad tragedy at the beginning of the book to a adventure with two people who barely know each other besides being neighbors. All the characters had one goal throughout the book, to save Ruby. The author shows how most people have compassion for others they barely know when tragedy hits. Three strangers worked together for one purpose, to save a mother from dying because of not having enough money. Even throughout the book there are other strangers who do their part to help Ryder and Mr. Starr out on to meet the star pitcher, Thomas Trent. An example  is RJ Leonardo and his dad.  RJ would win a competition to become a batboy for Atlanta for a day. He would give this opportunity to  Ryder instead  so he could meet Thomas Trent. The author makes you see that there is a lot of wonderful people out in the world with big hearts.
A passage of the book that really shows to me how Ryder feels about his life and why he would do anything to save his mom's life and why he he didn't want to have a sleepover with his friend was this passage from page 68, "He couldn't help thinking how different his life would have been and how different it might now be, with a father. He realized not having one was a big part of why he'd been so shy and so reluctant to make friends. It was because he felt like something was wrong with him, that he was missing something and not as good as other people. He realized now, amid the raging storm of emotions swirling through him, that if Thomas Trent was his father, Ryder's life would never be the same." This is true  and it does change Ryder's life forever but not in the exact way Ryder thinks. He believed that Thomas Trent not only would save his mom's life but change his forever. Trent does save his mom but the father part that changes Ryder's life will come from someone else .
The book cover shows only a boy who obviously plays baseball and has big dreams of making it to the big league by the picture of the huge stadium in the background. It  shows a boy alone staring at  just a baseball which will actually change his life forever. You would think it would be because he hits it out of the park or may make tons of homeruns. But it will actually be what is on the baseball that is really one of the main parts of the book and what the book is based on.
I rate this book 7 out of 10. I thought the beginning of the book was really sad and made me anxious about how Ryder was going to be able to save his mom and the idea his dad was a major league pitcher seemed not realistic. I also thought in the middle of the book was a little boring when they were trying to meet Thomas Trent. They came up with all these ideas and they kept failing which started to become boring to me. What changed my score to go to a 7 was because of the ending. It was a happy ending for everyone throughout the book. If this wasn't the case, I would of given it a 5.