The Houston Astros stole signs during all home games they played in 2017. The ballclub used a centerfield camera to view the opposing catcher's signs. They then decoded the signs, logged them into Codebreaker software, and sent the decoded signs to the dugout. Players hid in the dugout tunnel and banged on a trashcan signaling pitch to the batter. Note that stealing signs using technology is illegal. This method was successful for the team saying that they were the 2017 World Series champs. But did they deserve this title? During 58 home games logged,1,143 bangs were heard on 8,274 pitches. The batter knew what was coming 13.8% of the time. This gives the batter a greater possibility to put the ball in play. Hitting a baseball is one of the hardest things to do in sports so knowing what's coming is unfair.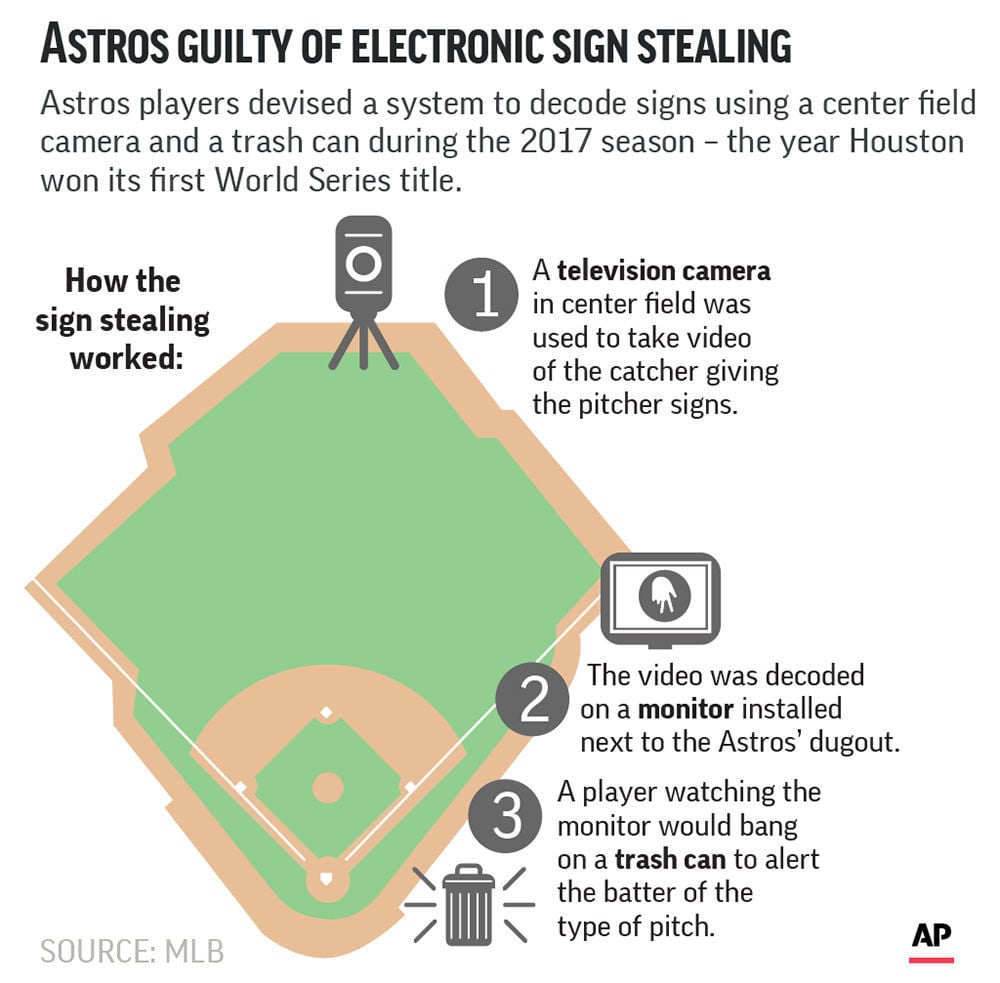 Utility player Marwin Gonzalez's performance was one to look deeper into. Two very important stats, weighted runs created plus, the number of runs a player has created based on their production while also looking at ballpark effects, and wins above replacement, which quantifies a players value in terms of wins compared to a replacement player at his same position,  show how valuable a player is to their team. In 2017 he had ]144 WRC+, 44 above league average, and 4 WAR,  2 above league average. But from 2012-
2016 Gonzalez had 85 WRC+ and 2.2 WAR. Gonzalez heard 147 bangs on 807 total pitches he saw and it helped him a lot. He had an 18.2 bang percentage, most among all players. Home and away splits from players were significantly different during the postseason too. In 18 games Altuve had a 1.541 OPS at home and a .497 OPS on the road. OPS combines players' ability to get on base and their power. You can see how large of an impact the trash can banging had. Without knowing what was coming Altuve wouldn't have gotten on base nearly as much.

Although players on the Astros benefited greatly from this scandal, players from opposing teams were hit hard. For example, former Blue Jays relief pitcher Mike Bolsinger.
On August 4th, 2017 during a game against the Astros, there were 15 bangs heard on his 29 pitches. Bollinger's final stat line was 0.1 IP, 4 H, 4 ER, 3 BB. Bolsinger hasn't pitched in the majors since and it's all because of the scandalous 2017 Houston Astros. People could argue that this scandal should be put in the past but in the end, the team shouldn't be acknowledged for their cheating ways. It's inequitable for them to be able to keep a title that they didn't deserve. Most baseball fans will agree upon the fact that this scandal was not handled the right way. Ultimately Rob Manfred should strip the Houston Astros of their title.