Throughout the 1800s & 1900s girls weren't as concerned about how they looked or who to impress. Nowadays, there is tons of pressure on girls who, quite frankly, are beautiful the way they are. Over the past decades girls all around the world have seen themselves in a negative way. According to "The American Journal of Maternal/Child Nursing",  "more than 80 percent of 10-year-old girls are afraid of being fat, that girls' self-esteem drops at age 12 and does not improve until 20, and that is tied to negative body image." No girls should count how many calories they consume in an apple, or count how many calories they have burnt running up the stairs, or wishing they had thinner legs like that other girl. Pressure on girls to have perfect bodies is EVERYWHERE!
Whether an ad saying, "Drop 25 lbs in 5 Days Using Our Product!" with a Barbie-like model pictured, or just that your friends are thinner than you because they were built differently can allow you to have negative thoughts about yourself. The Jakarta Post stated, "Girls and young women are under more pressure than ever to achieve the perfect body in an oppressive social media-driven world that could never have been imagined by 1970s feminists" and according to Mellisa O"Neill (director of program development at Timberline Knolls),"This is definitely increased due to social media and the perception that everyone has the perfect clothes, body, relationship, grades and life." O'Neill says the pursuit of perfectionism can feed into increased anxiety and depression. Lot's of pressure has contributed to the fact that, "suicide rates for girls ages 10 to 14 tripled from 1999 to 2014." (Stated  NPR News).
Social Media has many flaws, but it's filters are one of its greatest. Fancy filters & editing, can make any picture appear sparklier & more perfect than it's original self. All Social Media Apps should remove ALL filters!!!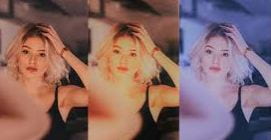 By doing so, others see themselves for who they are, not their fantasized image. While many argue, "Filters are fun! I don't post anyway!!" unintended harm remains. When you take a photo with a filter, you allow yourself to believe you are what the filter makes you out to be, but when you use the "normal lens" you see your true self. Which is beautiful! There is no filter that will change how you look in reality. And, while they could hide acne and other facial features, no filter will make you feel prettier or more confident in yourself. Filters are a FANTASY. You are reality. As Thich Nhat Hanh once said, "To be beautiful means to be yourself. You don't need to be accepted by others. You need to accept yourself."